The Ultimate Guide to
Brazilian Sugaring Hair Removal
at SugarMe Esthetics
Are you seeking an all-natural, highly effective method of hair removal?
Look no further than Brazilian sugaring, an ancient practice perfected here at SugarMe Esthetics the original sugaring salon of Sweden.
What is Brazilian Sugaring?
Brazilian sugaring is a method of hair removal that utilizes a natural paste made from sugar, lemon juice, and water. The paste is gently applied to the skin and then swiftly removed, pulling the hair from the root. This technique removes hair while also acting as a gentle exfoliation, which leaves your skin silky smooth.
Sugaring has several advantages over traditional waxing:
Less Painful: The sugaring paste sticks to the hair without adhering to the skin, making the process less painful than waxing.
Less Skin Irritation: Sugaring doesn't stick to live skin cells, reducing the chance of skin irritation and redness.
Natural Ingredients: Sugaring paste is made from natural ingredients, whereas wax often contains chemical additives.
Easy Cleanup: Sugaring paste is water-soluble, so it's easy to clean up after the treatment.
What's Included in a "Brazilian"?
A Brazilian sugaring at SugarMe Esthetics includes hair removal from the bikini line, the labia, and all the way to the back in between the buttocks cheeks. For the mons pubis, you can choose to remove all hair or keep some for a stylised look. Some popular shapes include a triangle or a landing strip. Our experienced team can offer advice on a look that suits you best. Here's a illustration of what parts includes in a Brazilian: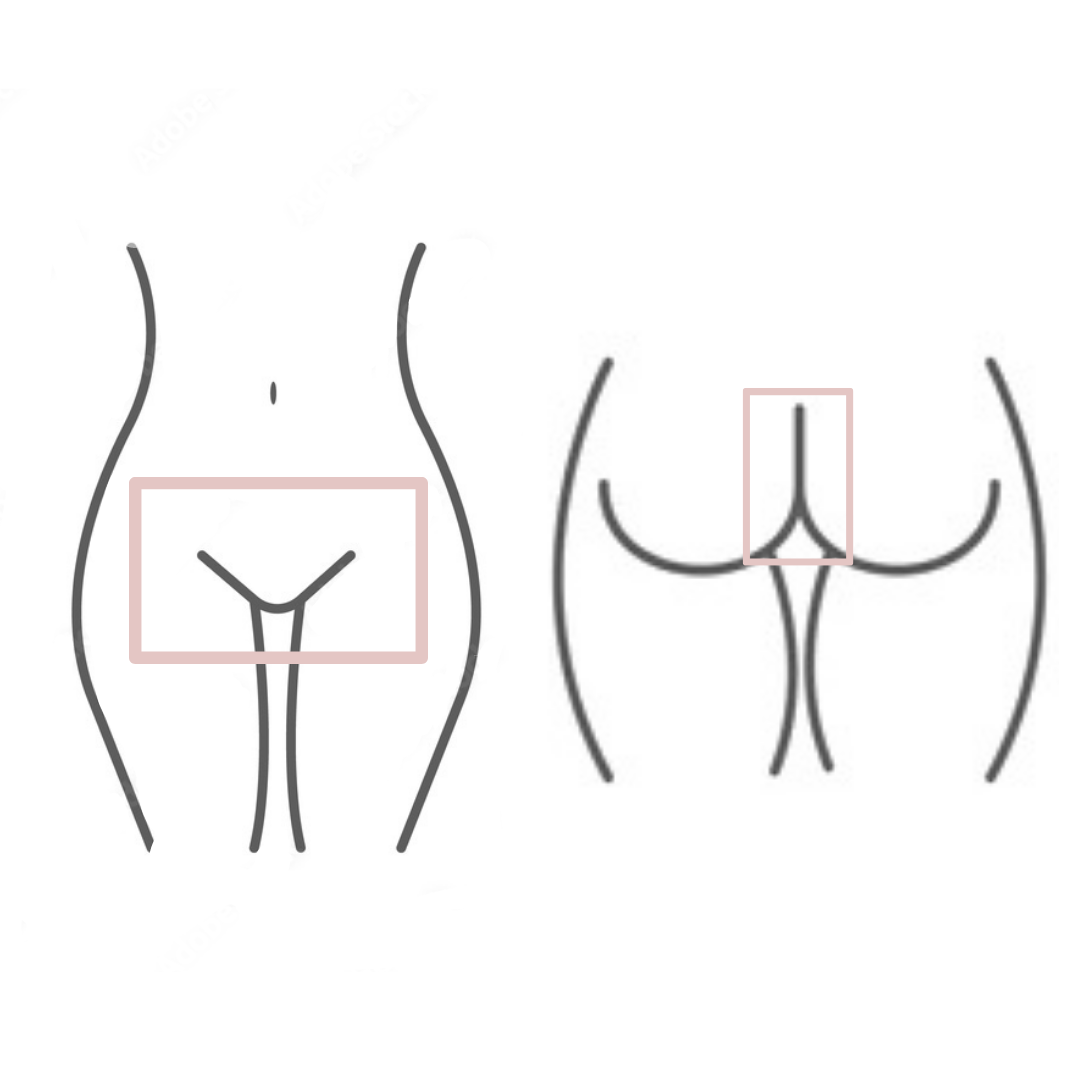 The Benefits of Brazilian Sugaring
Apart from the stunning results, Brazilian sugaring offers many advantages over other hair removal methods:
All-natural: The sugaring paste is made of completely natural ingredients, making it perfect for those with sensitive skin.
Long-lasting: As the hair is removed from the root, the results can last up to six weeks.
Exfoliation: The process of sugaring not only removes hair but also dead skin cells, leaving your skin soft and smooth.
Pregnancy safe: At SugarMe, we offer specific service categories for pregnant clients, ensuring a gentle and considerate treatment to accommodate the different stages of pregnancy. Our team has additional education and skills to sugar pregnant clients.
Preparing for Brazilian Sugaring
To get the most out of your Brazilian sugaring appointment, here are a few tips:
Exfoliate: Gently exfoliate the area the 2 days before your appointment to remove dead skin cells and allow for a smoother sugaring process.
Hydrate: Drink plenty of water before your appointment to ensure your skin is well-hydrated.
Hair Length: Your hair should be at least 1/4 inch long, roughly the length of a grain of rice, for the sugaring paste to adhere properly.
Aftercare for Brazilian Sugaring
After your sugaring appointment, it's crucial to take proper care of your skin to prevent any irritation or ingrown hairs:
Avoid Heat: Skip the hot shower or bath for at least 24 hours after your appointment.
Exfoliate: Begin gently exfoliating the area two days after your appointment to help prevent ingrown hairs. Exfoliating should be done regularly, your sugaring practitioner will instruct you with individual unique instructions depending on your skins needs.
Hydrate: Keep your skin moisturised using natural intimate safe oils and creams. Your sugarista will give you safe recommendations to avoid any intimate irritations.
Service Categories at SugarMe Esthetics
We offer three specific service categories tailored to your Brazilian sugaring needs:
Stammis (Regular): For our regular clients who visit every 3-6 weeks for their Brazilian sugaring. This is a discounted rate to encourage you to come more frequent. Longer than 6 weeks will be seasonal rate.
Seasonal: For clients who prefer to do their sugaring in line with vacations or the summer season, with intervals longer than 6 weeks.
Nybörjare (New Beginner): Perfect for those who are new to intimate sugaring.
Our team of therapists is highly skilled and experienced, ensuring you'll be delighted with the results no matter who you see. However, we encourage you to try all our therapists and experience the unique benefits each one brings, giving you the chance to connect with different personalities.
At SugarMe Esthetics, we pride ourselves on being the best in Brazilian sugaring. For years, we've honed our techniques and deepened our understanding, earning us a reputation for excellence. Ready to experience the benefits of Brazilian sugaring for yourself?
See you soon at SugarMe Esthetics, where smooth, beautiful skin is just a sugaring session away!