HydraFacial Keravive
Get the best hair of your life!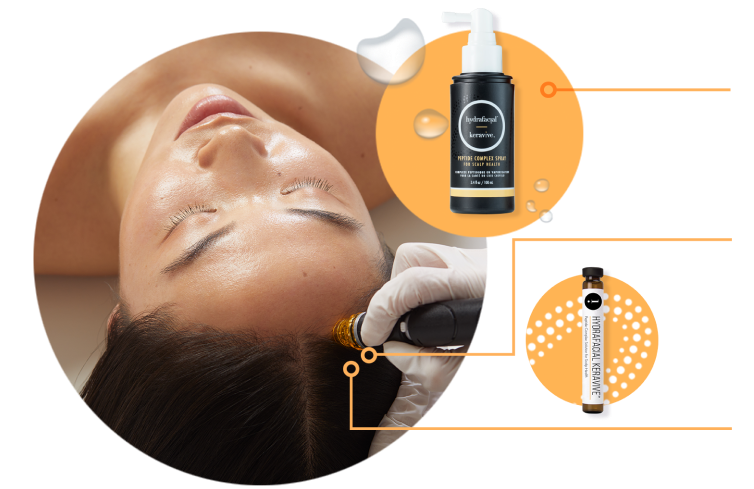 HydraFacial Keravive är en unik behandling som använder en
patenterad sugteknik, vilket ökar hårbottens hälsa och naturlig hårtillväxt.
Skalpbehandlingen exfolierar hårbotten, stimuluerar och öppnar upp hårfolliklarna med hjälp av HydraFacials unika sugteknik.
På så sätt kan näring, peptider och fukt penetreras ned i hårfolliklarna vilket i sin tur främjar en hälsosam och naturlig hårtillväxt.
Hur går behandlingen till?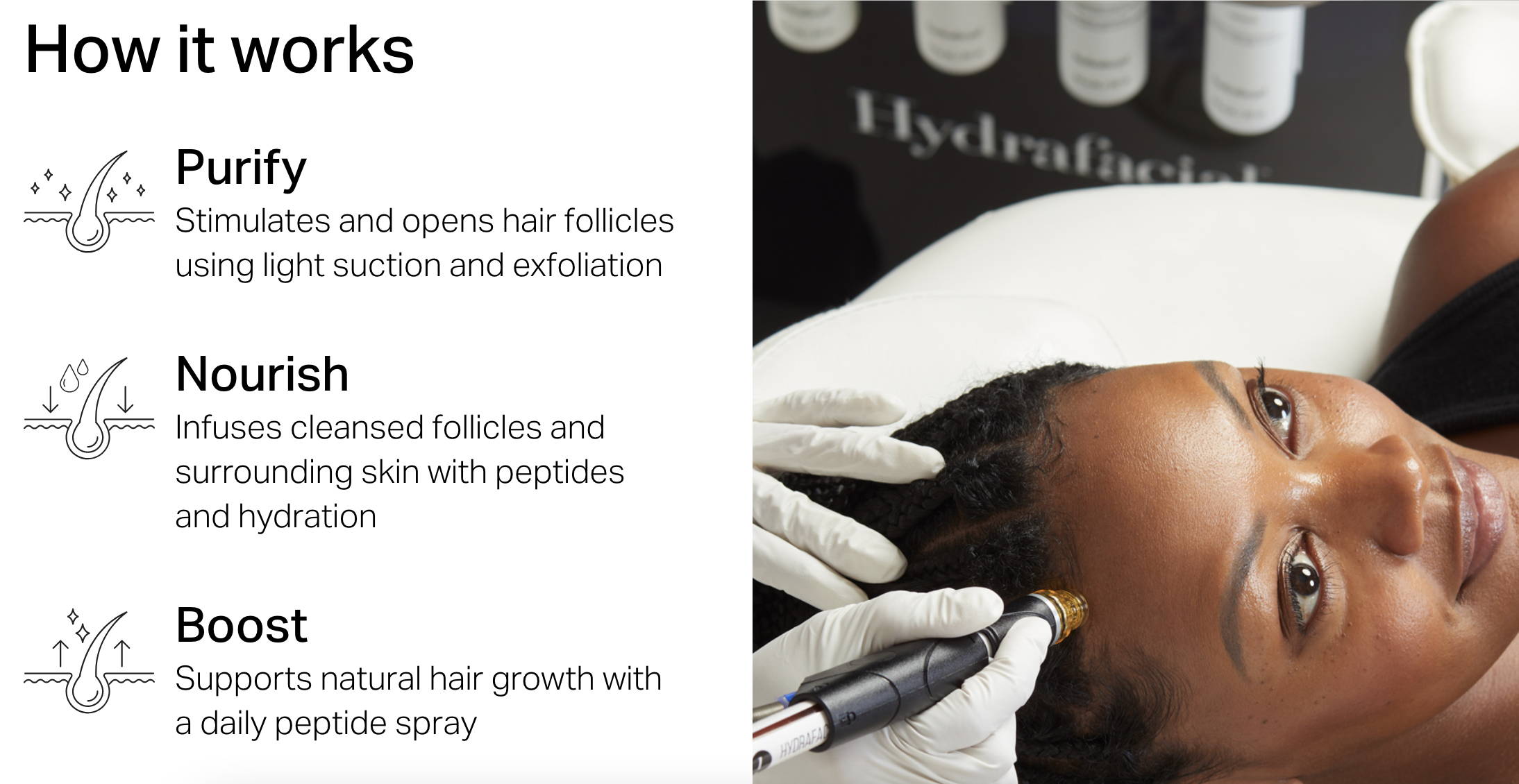 Inför din HydraFacial Keravive skalpbehandling rekommenderar vi att du tvättar håret gärna samma morgon, för att ha ett så rent hår och skalp som möjligt.
Behandligen börjar med att vi exfolierar skalpen i det området/områdena du önskar att behandla. Denna process gör inte ont, det är en skön och avkopplande stund.
Efter skalpen exfolieras, används HydraFacials Peptide Complex som innehåller peptider, näring, tillväxtfaktorer, B5 och arginin. Dessa ingredienser återfuktar, ger näring och främjer en starkare och mer hälsosam hårbotten. Detta complex applicerar vi i samma område som vi exfolierat.
Du får en avkopplande skalpmassage i slutet av behandlingen och med dig hem får du HydraFacials Peptide Complex serum för hemmabruk. Serumet bör användas varje kväll i hårbotten till din nästa behandling.
För vem passar behandlingen?
Alla kan göra HydraFacials Keravive behandling, oavsett hårtyp eller skalp. Du kan även göra behandlingen om du har flätor, extensions eller färgat hår. Din terapeut kommer alltid att anpassa behandlingen utifrån ditt behov.
Hur snabbt kan jag förvänta mig resultat?
Redan efter en behandling kan du känna en skillnad i din hårbotten, men behandlingen rekommenderas att göras 3 gånger, 1 gång i månaden, med daglig användning av Keravives skalpspray som du får med dig hem efter varje behandling.
Kan man göra behandlingen i kombination med andra skalpbehandlingar?
Ja! Det är inga problem att kombinera Keravive med andra skalpbehandlingar.
Varför bör man behandla sin skalp?
Många av oss är duktiga på att använda produkter för att främja ett hälsosamt och friskt hår, men vi glömmer ofta bort vår skalp. Skalpen lever sitt egna lilla liv, och behöver rengöras och få fukt för att fungera normalt. Bieffekterna av en skalp som är i behov av närig kan ofta klia, flagna, tunna ut håret eller orsaka håravfall.
Detta gäller både män och kvinnor - studier har visat att 85% av män och 50% av kvinnor lider av håravfall, tunnare hår och försämrad skalphälsa. Hormonella förändringar, stress, kemikalier från att ha färgat håret och build-up från hårprodukter är vanliga orsaker som påverkar män och kvinnor.
Nej, Keravive är en icke-invasiv, avkopplande och föryngrande behandling.
Hur lång tid tar behandlingen?
Behandlingen tar ca 30 minuter.